Real Estate Market Update - North Dallas Housing Report for May 2021.
Posted by Alex Piech on Friday, May 14, 2021 at 8:00 AM
By Alex Piech / May 14, 2021
Comment
The North Dallas Real Estate Market Report includes housing data for the following suburbs of North Dallas Plano, Frisco, Prosper, Celina, and McKinney.

Let's take a deep dive into what's happened in the last 30 days in the North Dallas real estate market.

This report was published on May 2nd, 2021. There were 2003 properties on the market. 75% of those homes already have an offer, which means there are only 680 available homes for sale. a 75% pending ratio means the market is still red hot.
Looking at the graph below, you can see the green line which represents the number of homes pending. The black line represents the number of homes that are available. You can see that the number of pending homes is outpacing the number of available homes all the way over the $1.2 million price range. The lines actually do not invert until the $1.3 million price range.

In the last six months, there has been 6,900 home sales in the North Dallas area. In that same time frame, only 800 homes have failed to sell for one reason or another.

In the last 30 days, homes have been receiving offers in just four days on the market. The average home has also been selling for 102.3% of the asking price. Now I can tell you from experience, we're seeing a lot of homes, receiving multiple offers. Some homes have received as many as 80 plus offers. We've also seen a lot of homes selling for 10% to 20% over the asking price.
Looking at the graphs below you can see that the median sold prices have been climbing since December. While at the same time, the number of days it takes to sell a home has drastically dropped down to just four days.

The graph below is a breakdown of the overall market by price brackets. In the blue column, you can see all the available home data for the 680 available homes for sale. The green columns are the pending home data for the 2003 homes that are currently under contract. The gray columns are the off-market home's data. The orange columns are a breakdown of all the closed sales data for the last six months.

You can see based on the month's supply of inventory number in the far right-hand column that we are currently in a seller's market for each price point which means there are more buyers than there are homes to sell and prices are appreciating.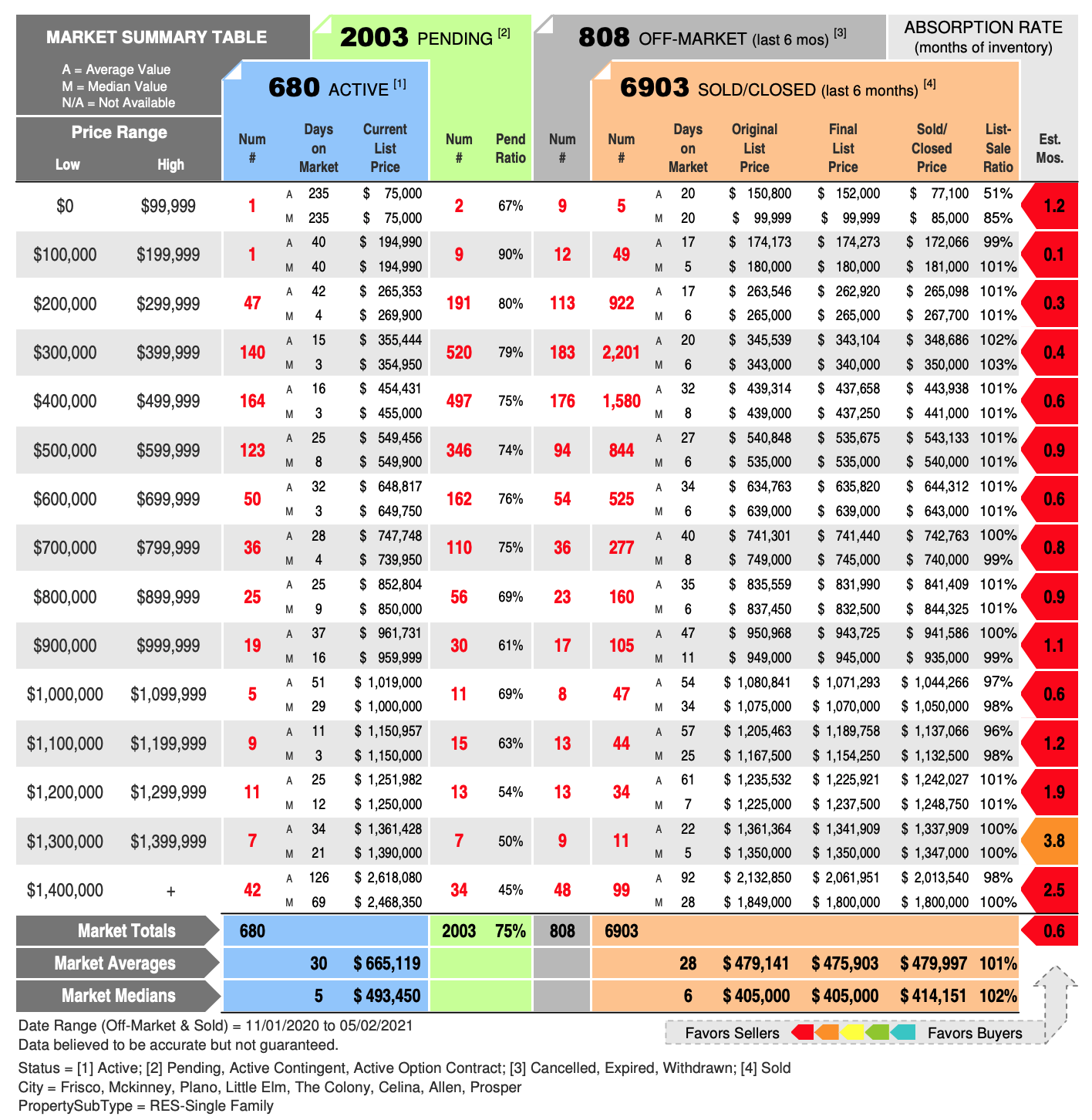 If you have any questions about the market and what all of this information means and how it will impact you when buying or selling in 2021, call us today for a free consultation call.